Current Book Club Titles
August 2019
The Erratics
Author: Vicki Laveau-Harvie
Avenue Richmond Book Club members click here to rsvp for this month's meeting
MEETING TIMES:
Tuesday, 20th August 2019, 7pm FULLY BOOKED
Thursday 22nd August 2019. 7pm LIMITED PLACES STILL AVAILABLE
Click here for reading notes or more information on this book
NOTES: "We've been disowned and disinherited: there's not changing it, I say. When something bad happens to them, we'll know soon enough and we'll deal with it together. I don't realise it at the time, but when I say that, I imply I care. I imply there may be something to be salvaged. I misspeak. But I'm flying out anyway. Blood calls to blood; what can I tell you."
This is a memoir about a dysfunctional family, about a mother and her daughters. But make no mistake. This is like no mother-daughter relationship you know. When Vicki Laveau-Harvie's elderly mother is hospitalised unexpectedly, Vicki and her sister travel to their parents' isolated ranch home in Alberta, Canada, to help their father. Estranged from their parents for many years, Vicki and her sister are horrified by what they discover on their arrival.
For years, Vicki's mother has camouflaged her manic delusions and savage unpredictability, and over the decades she has managed to shut herself and her husband away from the outside world, systematically starving him and making him a virtual prisoner in his own home. Vicki and her sister have a lot to do, in very little time, to save their father. And at every step they have to contend with their mother, whose favourite phrase during their childhood was: 'I'll get you and you won't even know I'm doing it.'
A ferocious, sharp, darkly funny and wholly compelling memoir of families, the pain they can inflict and the legacy they leave, The Erratics has the tightly coiled, compressed energy of an explosive device - it will take your breath away.
Winner of the Finch Memoir Prize in 2018, and Winner of the Stella Awards in 2019.
---
September 2019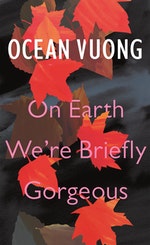 On Earth We're Briefly Gorgeous
Author: Ocean Vuong
Avenue Richmond Book Club members click here to rsvp for this month's meeting
MEETING TIMES:
Wednesday 18th September 2019, 7pm BOOKINGS OPEN END AUGUST
Thursday 19th September 2019. 7pm BOOKINGS OPEN END AUGUST
Click here for reading notes or more information on this book
NOTES: On Earth We're Briefly Gorgeous is a letter from a son to a mother who cannot read. Written when the speaker, Little Dog, is in his late twenties, the letter unearths a family's history that began before he was born -- a history whose epicenter is rooted in Vietnam -- and serves as a doorway into parts of his life his mother has never known, all of it leading to an unforgettable revelation.
At once a witness to the fraught yet undeniable love between a single mother and her son, it is also a brutally honest exploration of race, class, and masculinity. Asking questions central to our American moment, immersed as we are in addiction, violence, and trauma, but undergirded by compassion and tenderness, On Earth We're Briefly Gorgeous is as much about the power of telling one's own story as it is about the obliterating silence of not being heard.
With stunning urgency and grace, Ocean Vuong writes of people caught between disparate worlds, and asks how we heal and rescue one another without forsaking who we are. The question of how to survive, and how to make of it a kind of joy, powers the most important debut novel of many years. It is a shattering portrait of a family, a first love, and the redemptive power of storytelling.
Named one of the most anticipated books of 2019 by Vulture, Entertainment Weekly, Buzzfeed, Los Angeles Times, Boston Globe, Oprah.com, Huffington Post, The A.V. Club, Nylon, The Week, The Rumpus, The Millions, The Guardian, Publishers Weekly, and more.